Well, it's official. Blink 182 is getting back together. This has been the subject of a lot of wishful thinking in the pop punk world for, well, since the band went on hiatus in 2005. For the past couple of years, every interview and action by Mark, Tom, and Travis has been carefully dissected looking for any clues about a possible reunion. Finally the band officially announced a reunion at the Grammy's yesterday. The real news, however, broke three days earlier with Angels and Airwaves guitarist David Kennedy posted in a chat room that Blink 182 was in the studio.

Now that I've had a few days to let the news sink in, I've decided that I am cautiously excited for the reunion. I've always had mixed feelings about the possibility of a Blink 182 reunion. On the one hand, Blink 182 was a very important part of my introduction to the music I love today. I was 13 when I bought my first Blink record, and it was love at first listen. I have some great memories attached to a lot of Blink songs. Hell, I even wrote a cheesy parody of "Rock Show" to a girl I was dating at the time while I was away on vacation. I can't help but get a little nostalgic and excited about the idea of them being back together again.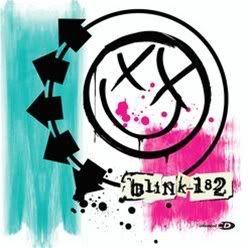 At the same time, reunions aren't all they are cracked up to be. Highly-publicized reunions are usually of highly influential bands that captured the zeitgeist of the time. However, rarely is the original spark recaptured and the band just can't strike the same chord with the audience. At most, fans want to be able to see the band live once again or younger fans want to see a band that they never got a chance to see in their heyday.

For quite awhile, I was content with Blink's run and didn't want to see them come back and hurt their legacy. I am not dying to see them live again, especially if the terrible rumors are true at EW about them opening for Green Day. Don't get me wrong, I'd love to see them in concert, but it's not enough to convince me that a reunion is necessary. I have also been hesitant because I just can't stand Tom Delonge anymore. Every interview I read with him just makes me think he's more arrogant, selfish, delusional and maybe a little crazy. On the other hand, I've grown to respect Mark so much more over the years. I'd much rather show my support to whatever project the caring, down-to-earth, and still hilarious Mark does than give support to anything Tom is involved in.

My doubts about the reunion vanished only after I put on Blink 182's self-titled record. While

Dude Ranch

and

Enema of the State

may have made me fall in love with the band, the album I listen to the most is their last one. It's incredibly underrated and just fits my mood perfectly sometimes. I must have listened to it over a dozen times in the past two days. It's hard to choose a favorite Blink song, but for awhile it's been "All of This" (however, it's not a fair competition with "All of This" featuring guest vocals by Robert Smith of the Cure). I am excited for a Blink reunion mostly because I'm just praying they can create another record that moves me as much as their last. Blink 182 is all about synergy. Mark and Travis's post-Blink project +44
had a great single but had little lasting power with me. Tom's Angels and Airwaves project is just garbage. Take Mark's lower pitched voice and Tom's higher nasal voice, add Travis just killing it behind the kit, and you've got some real magic.
So while I still have my concerns, I'm getting excited about this reunion. I'll be crossing my fingers until the album they are currently recording is released and until I hear some details about their tour. As long as their new album is a progression of the self-titled and not some attempt to recapture the glory of their more juvenile days, I will be a happy fan.


One thing that I have no doubts about: Midtown needs to get back together and stop this Cobra Starship nonsense. Cobra was entertaining and enjoyable at first, but Gabe needs to get back to business and produce another classic like

Forget What You Know

.